Handcrafted Beauty
Inspired by the ultimate pageant symbol, the IJM Crown Replica Ring is a miniature version of the real thing
Each piece is hand poured, sized and polished by artisans in the U.S.A. and made specifically for you
Customized to your specifications, your ring can be cast in any precious metal and embellished with gemstones of your choosing

make the ijm crown replica ring yours
STERLING SILVER: $125  |  10K GOLD: $503  |  14K GOLD: $632
Prices subject to change with market conditions.

To Place Your Order

Have Your Own Idea?
From IJM custom pieces to unique anniversay or birthstone jewelry for your next pageant, if you can dream it, Cia's can make it a reality.
About Cia's Jewelry
Using state-of-the-art CAD technology and the best U.S. artisans, Cia's Jewelry handcrafts unique pieces to compliment any style and budget. From engagement rings to special occasion and commemorative jewelry, we involve our customers every step of the way, from conceptual sketch to finished product.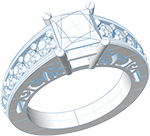 Our Custom Design Process
If you've ever thought about creating a unique piece of jewelry for yourself or to give as a gift, Cia's collaborative CAD design process can make your vision a reality. Provide a sketch or inspirational image, jewelry size and budget, and owner Ed Brady will work with you to create a digital rendering. Next, he will use a 3D printer to generate a wax model and ship it to you to examine and/or try on. Once adjustments are made to your specifications, Ed will craft a plaster mold from the final wax piece and fill it with heated precious metal of your choosing. Finally, the jewelry is polished and sized and stones are set before your one-of-a-kind creation is delivered to you.